How often do we recycle shoe boxes? Perhaps, many times only to store things, or to store shoes. When was the last time you did something innovative with the shoe box? Most of the times we preserve boxes, but for a change; how about decorating them or utilizing them in a productive way. How about converting them into a sewing kit. Previous article detailed you what all sewing supplies you require for a handy, efficient and useful hand sewing kit.
How about in this article we learn how to store those things in a kit that can be made in a few dedicated minutes.
Shoe boxes like Tin cans, can be found in your store room. All you need for this kit is
- A Shoe Box
- A piece of Fabric or gift paper (both depend on the type of box you choose)
For a normal shoe box to cover insides and outside you'll need two standard sheets of gift paper or 1/2 metre of fabric.
- Glue
- A few elastic bands or elastic
Well, that's it!
Let's start creating our own customized sewing kit. Which Allows you to store your stuff at your own convenience.
The above picture illustrates an amazing creation that can be created in a few minutes.
All you need is a box. You can take the box as displayed above which has its lid attached to the box or the box whose lid is detached.
Step 1: All you need is to spread glue on the inner side of the shoe box and drape it with paper or cloth.
Tip: you can also use coordinating different color fabric to add more exquisiteness to the box.
Remember always start decorating inside than outside, as glue usually messes outer side of the box.
Step 2: Glaze glue layer on the outer side, one side at a time and then on lid's inner side then outside.
Step 3: When you are done with it, now time to make some sections, columns and areas to hold your supply.
Take Elastic and make columns, like if you want a place for spools then attach elastic string to mmm.. (you can start from either right side or left) so glue one side of the elastic and stick to the box.
Then take a thread spool and put it there and measure by stretching elastic. Hold the elastic tight and mark with a pencil. Measure with a scale and note centimetres and then see how many spools your box wall can hold.
Remember, to leave at least 2 cm elastic to make sectioned spool carrier. If you are not making sectioned then Just grab one end and stretch and glue the other end on the left side.
Step 4: Similarly, make sections for your scissors, needles, a handy book or a small space to carry embroidery book or needle holders. Click here to learn DIY Lacy Needle keeper.
Step 5: 3 sections are mandatory, 1. for pen holder, 2. for holding pencil and 3. for holding measuring tape.
These three things are the most foundational thing of sewing and sometimes required at every step.
Step 6: Make and customize box according to your need.
Well, thats an easy tutorial how about a few pictures to give you more clearer perception of which design will suit or hold your sewing supplies.
This one has two small boxes attached to the main box. Another great idea if you are not comfortable with elastics then, try attach small boxes. if you have large supply then We suggest try the box pictured below.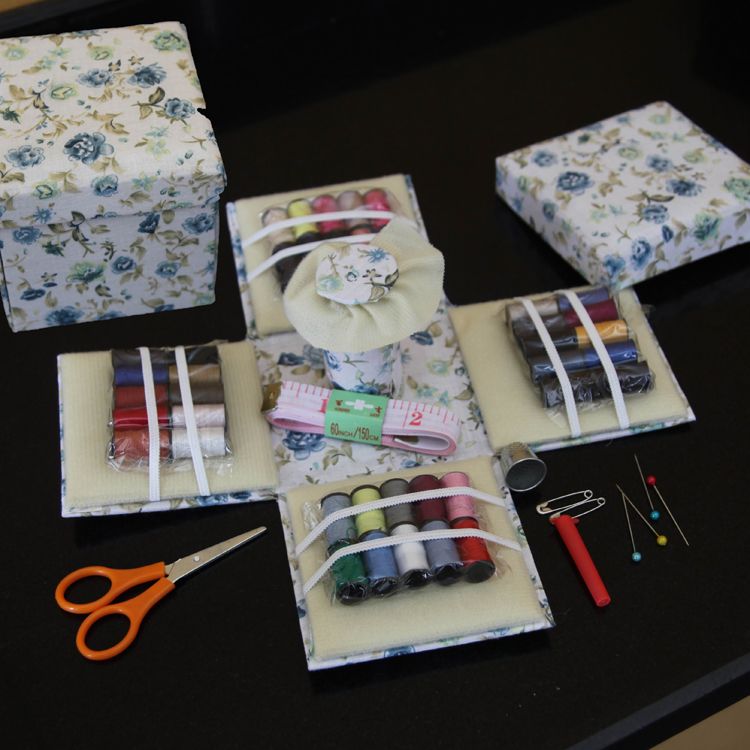 How about this one, all you got to do it, cut your box sides and Attach elastics and then cushion the walls with sponge. when you raise the walls of the box you just need to put on the lid it will convert into the box again.
Well, certainly these ideas have made me eager to change my traditional sewing kit into hip, trendy and elegant.
Both pictures are below:
Into This
It is definitely time to switch I am tried of the messy box that makes me irritated most of the times. So Adiox My old box..
Welcome my new friend.
You also enjoy and convert your kit until I see ya next time.
Adiox, Prendre Soin.
Continue reading